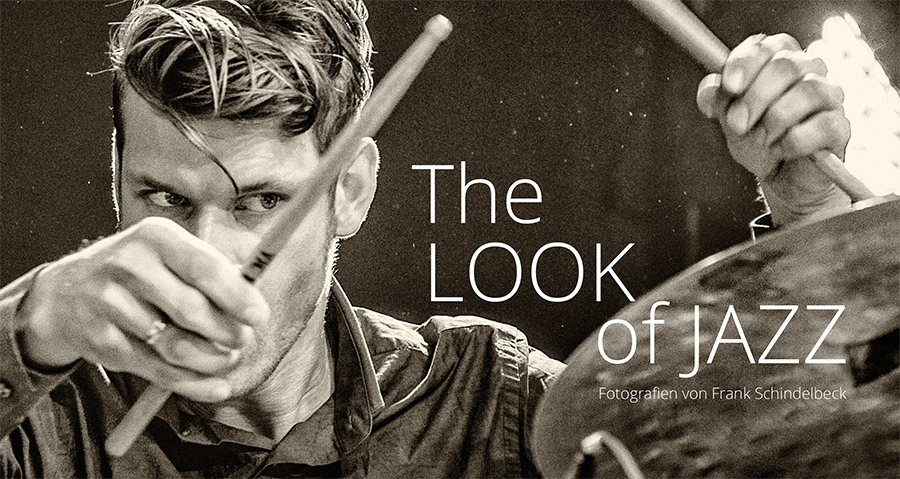 Kunstverein Rüsselsheim präsentierte "The Look of Jazz" – die Jazzfotografie von Frank Schindelbeck
23.9.2018 bis 31.12.2018
| Kunstverein Rüsselsheim | Jazzfabrik Rüsselsheim | Kultur123 Stadt Rüsselsheim
scroll down for german version
Frank Schindelbeck was born in Heidelberg, grew up nearby, and later in Alpirsbach in the Black Forest. During the final years at school he began photography. After he received the German "Abitur" (the diploma required for admission to college studies) he worked for 6 months in a local photo studio
Scared of spending his life as a wedding photographer, he discontinued his photography career. Instead he studied Geography, managed the institute's photo laboratory, escaped for days in the University's library hunting for the great photo books there. Influenced by the great masters like André Kertész, Ansel Adams, W. Eugene Smith, Edward Weston, Eugène Atget, Nadar, Diane Arbus, Danny Lyon, Robert Frank,… – just to name too few.
Meanwhile he completed his studies with some focus on IT and visual design. Schindelbeck works for many years until now for a renowned project devolepment company in Heidelberg.
Jazz and Photography
Frank Schindelbeck works as jazz photographer since the middle of the 1980ies. Since then he attended uncountable concerts, always with a camera in the hand In earlier times with film in the Pentax SLR. A vast archive developed over the years with images from Miles Davis to Sun Ra and a good overview of the German jazz scene.
Since the 1990ies several acitivities in the jazz area: Founding and maintaining of the jazz portal www.jazzpages.com (since 1997), now: jazzpages.de, Webdesign for musicians, founding of the record label fixcel records (2008), a weekly radio show – Jazzology – at Free Radio Station Rhein-Neckar (Bermudafunk, since 1999). Always with a close connection between photography and jazz.
Organisation of, and participation in, jazz photography exhibitions at Enjoy Jazz Festival over several years. Solo exhibitions with jazz photography at Studiobühne Fürth and at the Jazzfestival Idstein. Solo exhibition at Kunstverhein Rüsselsheim in September 2018.
Over the years many professional portrait- and bandphotography assignments. Schindelbeck's photos appeared on covers, in cd booklets and other print products. Images were published in several newspapers (amongst others: ZEIT Magazin, New York Times, Frankfurter Rundschau, Neue Musikzeitung), leading journals and books. He regularly works for the german jazz journal Jazzthetik.
Frank Schindelbeck – Biographische Infos
Frank Schindelbeck kam 1964 in Heidelberg auf die Welt, wuchs dort in der Nähe und später im Schwarzwald auf. Noch zu Schulzeiten begann er spielerisch mit der Fotografie. Nach dem Abitur arbeitete er im Rahmen eines Praktikums ein halbes Jahr in einem Fotostudio in Alpirsbach. Die Schrecken einer Existenz als Hochzeitsfotograf hielten ihn seinerzeit davon ab, die Ausbildung als professioneller Fotograf zu beginnen. Stattdessen studierte er Geographie, leitete das Fotolabor im Institut, verschwand tagelang im der Unibibliothek auf der Suche nach interessanten Fotobüchern, beschäftigte sich mit EDV und Grafik und arbeitete nach erfolgreichem Studium im Bereich Grafik und Öffentlichkeitsarbeit. Seit vielen Jahren als Leiter der Öffentlichkeitsarbeit bei einem Projektentwickler für große Büroimmobilien in Heidelberg.
Jazz und Fotografie
Als Jazzfotograf ist Frank Schindelbeck seit Mitte der 1980er Jahre unterwegs. Seitdem Besuch unzähliger Konzerte, stets mit einer Kamera in der Hand, damals noch mit Film bestückt. Es entstanden Aufnahmen von Miles Davis bis Sun Ra und ein guter Querschnitt durch die deutsche Jazzszene.
Ab den 1990er Jahren ergaben sich zunehmend weitere Tätigkeiten im Jazzbereich: Gründung und Betreuung eines Internetportals (Jazzpages, seit 1997), Webdesign für zahlreiche Musiker, Gründung eines Jazzlabels (fixcel records, 2008), wöchentliche Jazzsendung Jazzology im Freien Radio Rhein-Neckar (Bermudafunk, seit 1999). Stets gab es eine enge Verzahnung von Fotografie und Jazz.
Organisation von – und Teilnahme an – Gemeinschaftsausstellungen im Rahmen des Enjoy Jazzfestivals über mehrere Jahre. Einzelausstellungen mit Jazzfotografie in der Studiobühne Fürth und beim Jazzfestival Idstein.
Im Laufe der Jahre ergab sich eine Vielzahl an professionellen Portrait- und Bandfotografie-Aufträgen, mit Nutzung der Fotos als Cover sowie in Booklets von CDs. Fotografien von Frank Schindelbeck fanden zudem ihren Weg in diverse Zeitschriften und Bücher. Er fotografiert regelmäßig für die Zeitschrift Jazzthetik.